---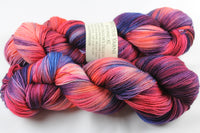 Beyond XL is a larger put-up of the popular Beyond base and is perfect for shawls, garments, or other projects that need more yardage. It is a blend of 80% Super Wash Merino/10% Cashmere/10% Nylon. It has a nice, tight twist, works into a wonderfully durable fabric, and is a pleasure to use as well as to wear!
Colorway: Sailor's Delight
Shades of well, how do I explain this one?
Have you ever looked up at the sky and said to yourself, "Red sky at night, sailors delight"? It's an old adage that indicates that there will be nice weather the following day.
The sky will have all kinds of shades of orange, red, blue, grey, purple blending together while swirling around, and sometimes even a few clouds that are lingering. The blend of colors beckons for your gaze to linger just a moment longer, and you can't help but smile. Not just because the colors are amazing, but because you know that tomorrow will be a good day.
Those are the colors in these skeins..

While all skeins were dyed at the same time, it is advised that you alternate skeins on larger projects for best results, due to the nature of hand-dyed yarns.
600 yds/150 gr. Fingering weight
While the merino is superwash, the cashmere is not. It is recommended to hand wash in cool water and lay flat to dry.
Listing is for one skein.
Acid dyes used.
Please see shop policies.