---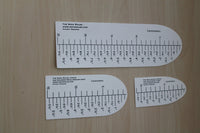 I've been so pleased with my personal sock ruler, and was thrilled to see them available in multiple sizes. This set includes three sock rulers: one for infant/baby sizes, one for small/medium child sizes, and one for adults.
The Sock Ruler (patent pending), is constructed of a heavy duty, yet flexible plastic; an innovative measuring tool for sock crafters that goes inside of the sock, allowing it to lie flat and ensure accurate measurements.
Please note that the measurements are not for shoe size, but for actual length of your project. The back is blank, and I've had customers tell me that they use it to list info for easy access.
Knitting from the cuff down, the Sock Ruler will measure: Length of cuff, distance from top of cuff to start of heel flap, distance from finished heel to start of decrease for toe
Knitting from the toe up, the Sock Ruler will measure: Distance from toe to start of heel, distance from finished heel to start of cuff, and length of cuff
It can also be used to measure other projects, such as hats, gloves, mitts, etc.
Listing is for one Complete Sock Ruler Set.