---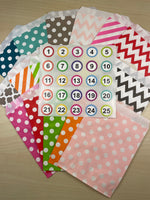 Wrap your mini skein sets with these assorted bags and numbered stickers. 

Listing contains a random assortment of 24 paper bags and a sheet of stickers numbered from 1-25.  (an extra for luck?)

Bags are made of paper and measure 6x5 inches.
Actual bags may vary from photo.
There will be duplication of some patterns in the assortment.