---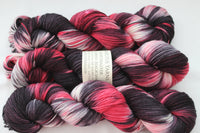 SportMaster is a blend of 80% Super Wash Merino/ 20% Nylon. It has a nice, tight twist, works into a wonderfully durable fabric, and is a pleasure to use. It is the sport weight version of our popular Master of My Feet base.

Colorway: Magician
Hand dyed in variegated shades of red, cream and black.

While these skeins were dyed at the same time, it is advised that you alternate skeins on larger projects for best results, due to the nature of hand-dyed yarns.

328 yds/100 gr.
Sport weight
While this is a superwash blend, it is recommended to lay flat to dry.
Listing is for one skein.
acid dyes used

Please see shop policies.