---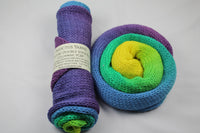 Double Sock Blanks are here! Each 100 gr set consists of two 50 gr blanks loosely knit together in blank form and dyed in a gradient style so that both blanks will match, allowing for matching gradient socks. Awesome for working 2 at a time, but you can always knit one and wind the other one as you go, if you'd prefer. If the yarn doesn't seem to be unraveling easily, you may be working from the wrong edge. Try the other side and you'll likely find that to work better for you.
Adventure is a blend of 75% Super Wash Merino/ 25% Nylon. It has a nice, tight twist, works into a wonderfully durable fabric, and is a pleasure to use.
Colorway: YGBP
Hand dyed in transitioning shades going from yellow to greens, blues and purples, and other colors that may fall between them.
There is one repeat of the transition in each half skein.
While all skeins were dyed at the same time, it is advised that you alternate skeins on larger projects for best results, due to the nature of hand-dyed yarns.
460 yds/100 gr. Fingering weight
While this is a superwash blend, it is recommended to lay flat to dry.
Listing is for one set of 2 half skeins.
Acid dyes used
Please see shop policies.